EDIFIER D12 speaker Bluetooth V5.0 Wooden enclosure support AUX Line in input Theater and music sound stage selection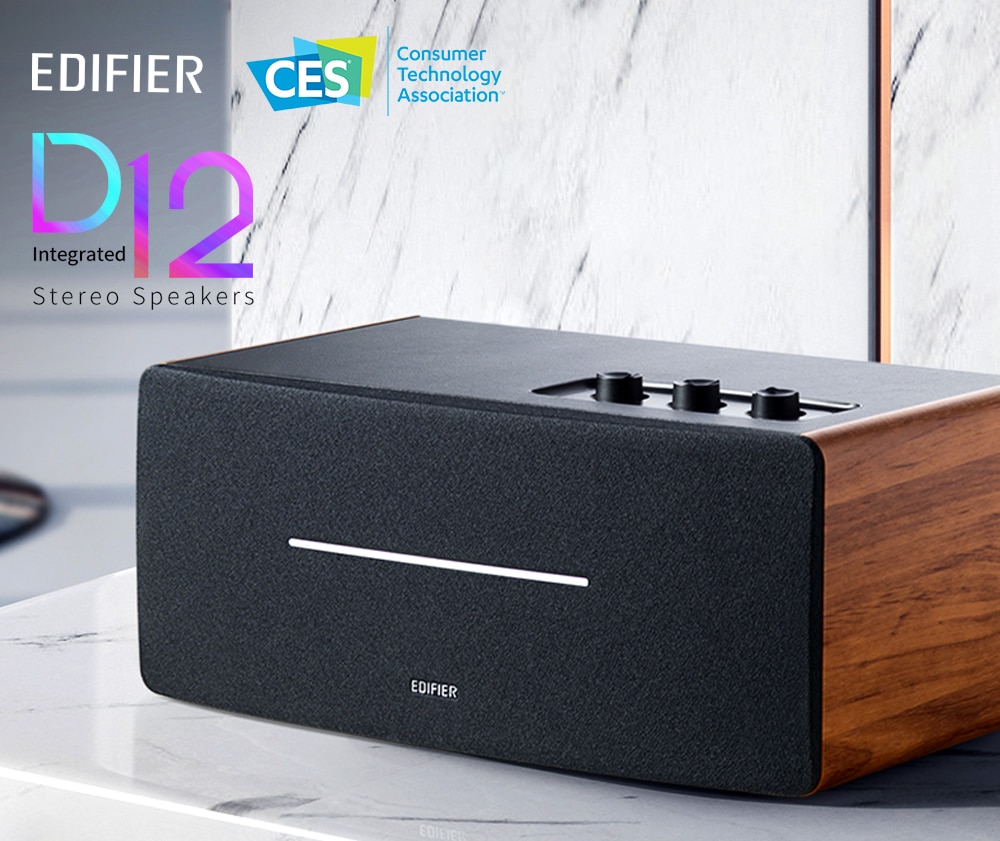 Features
• Integrated stereo speaker designed for desktop use
• Wooden enclosure minimizes acoustic resonance
• Bluetooth V5.0 technology ensures stable connection
• 3/4-inch (Φ19mm) silk treble unit and 4-inch(116mm) mid-bass unit provide accurate response
• Versatile connectivity: AUX, Line in, Bluetooth
• Analog line out function
• Theater/music sound stage selection
• Top-mounted volume control and wireless remote control for easy adjustment
• Front-facing reflex port designed for wider soundstage and powerful bass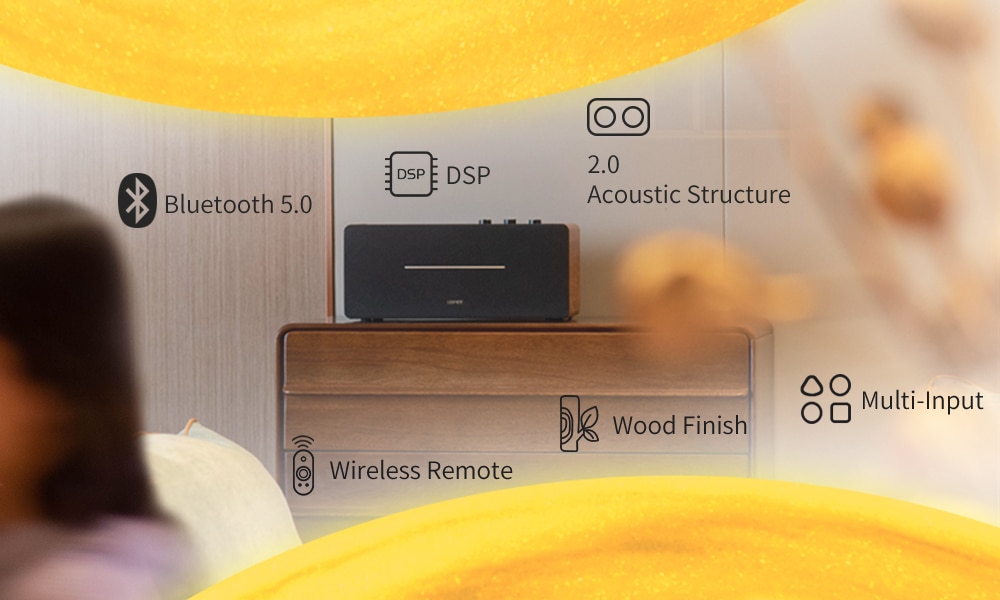 Simple and Elegant Design
Featuring a wooden exterior finish, leather-grained surface, black mesh and silver detailing, the speakers complement any home's aesthetic.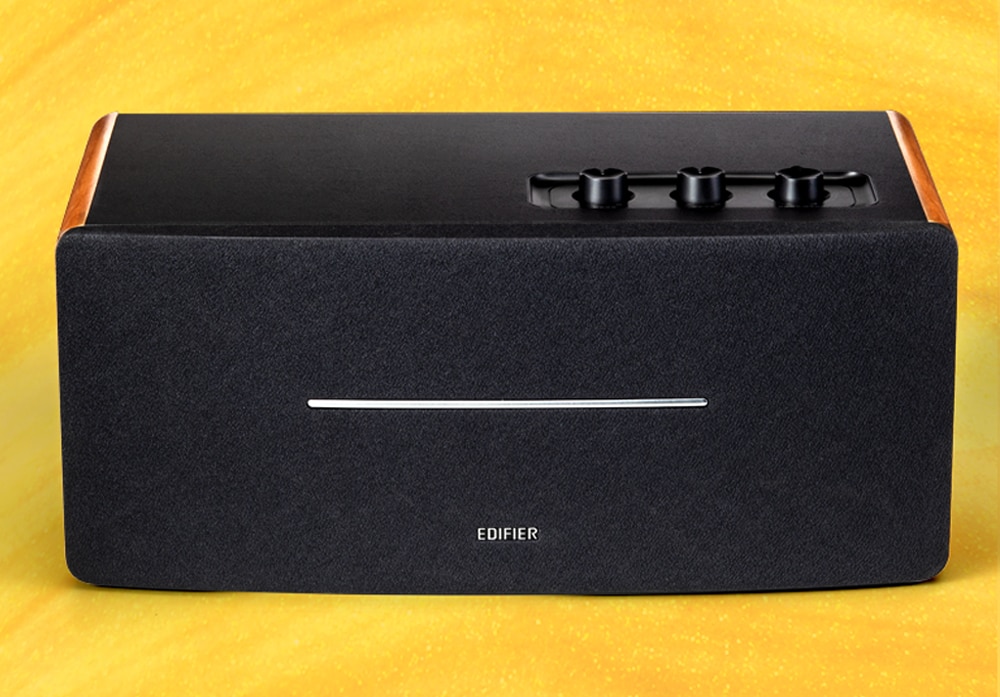 Premium Sound Quality Wherever You Want It
Wireless sound that's perfect for the home office, dorm, and any space in your home.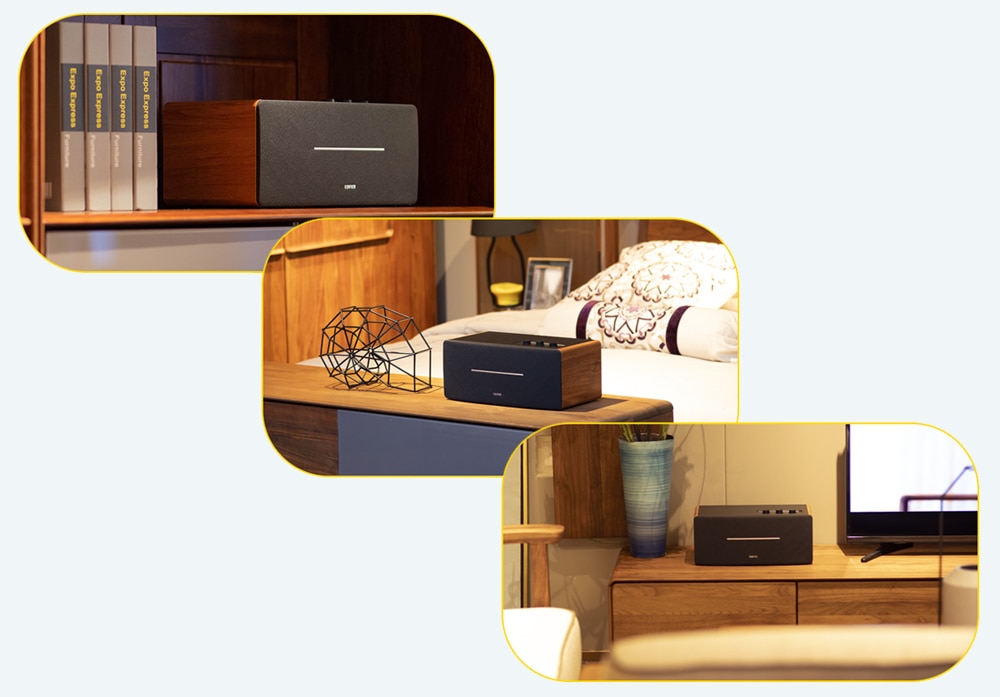 Sleek Wood Grain Finish for The Added Touch of Luxury
The solid wood frame helps create a pure, high quality sound by limiting resonance.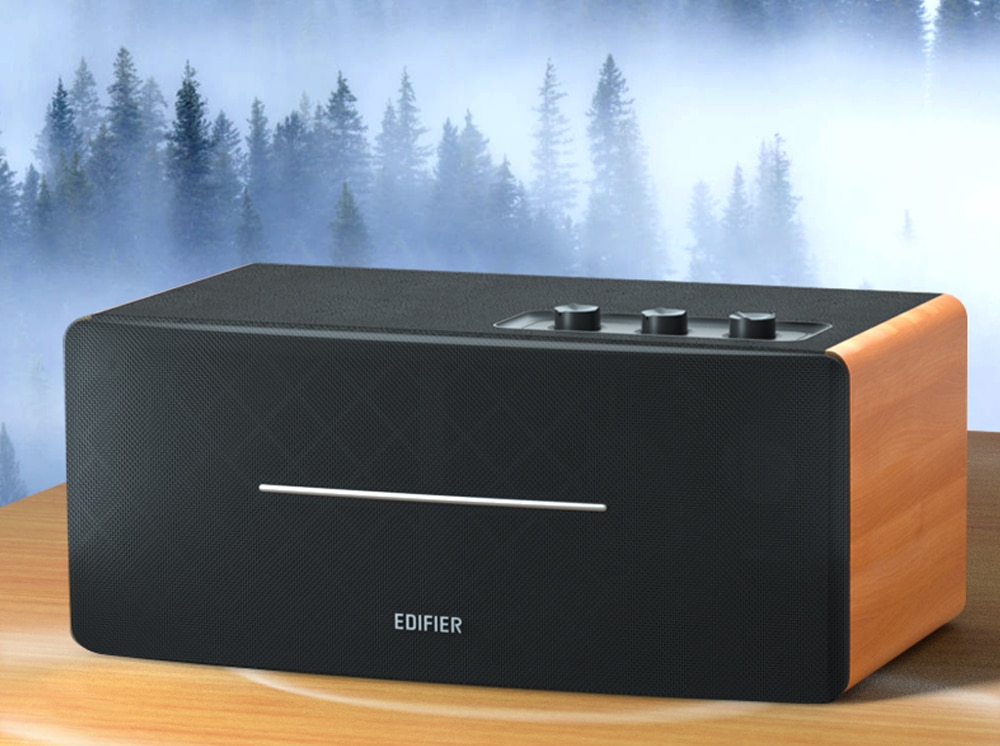 The Golden Radio of Musical Sound Through Innovative Separation of High and Low Frequencies
Made with 4 sound units, the D12 speakers offers beautifully balanced sound with high-low frequency separation and deeper tones not previously found in traditional desktop speakers.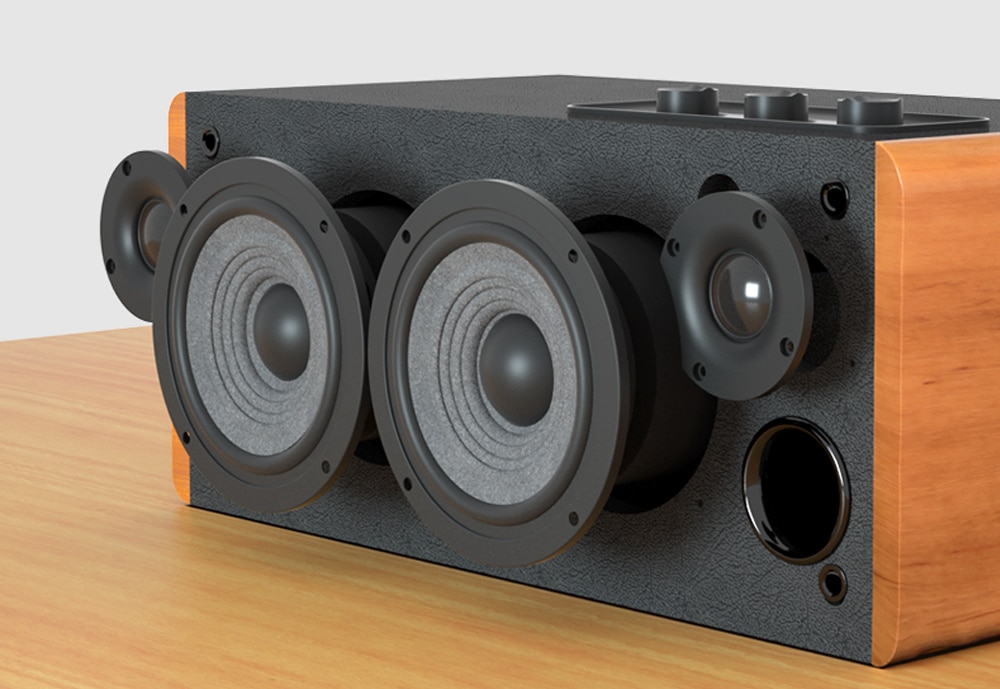 Meticulously Selected Products for High Quality Performance
φ3/4″ unit offers rich, mellow trebles while φ4″ unit with woolen diaphragm offers deep resonating bass.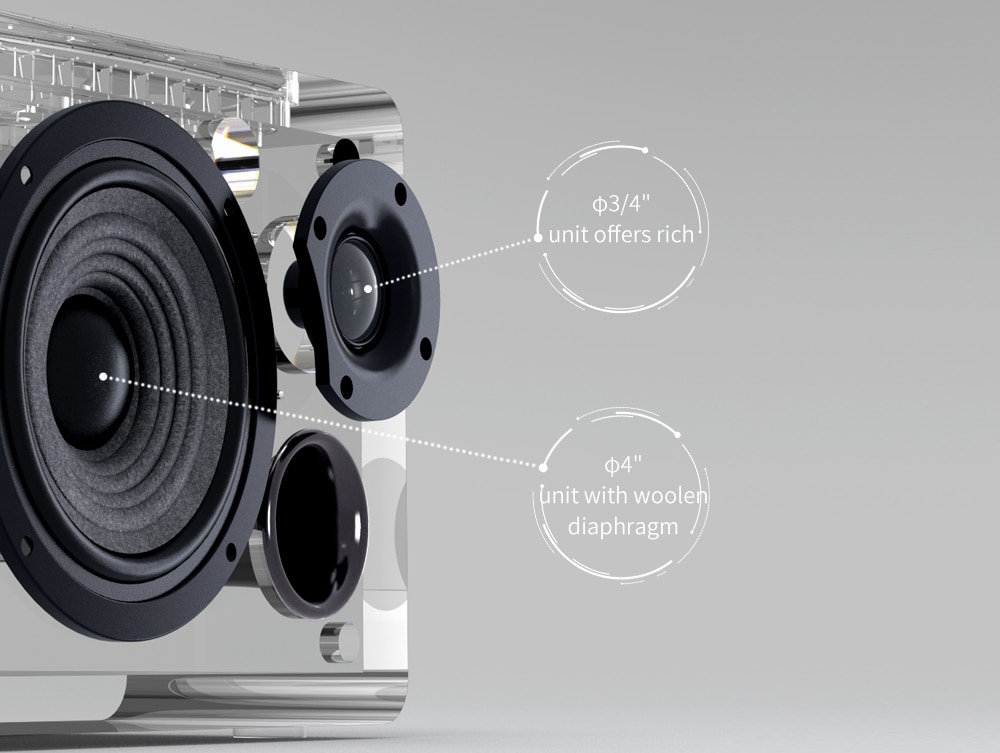 Low Interference Acoustic Structure
The D12 integrated speakers features two separate cavities to minimize distortion and maximize pure sound.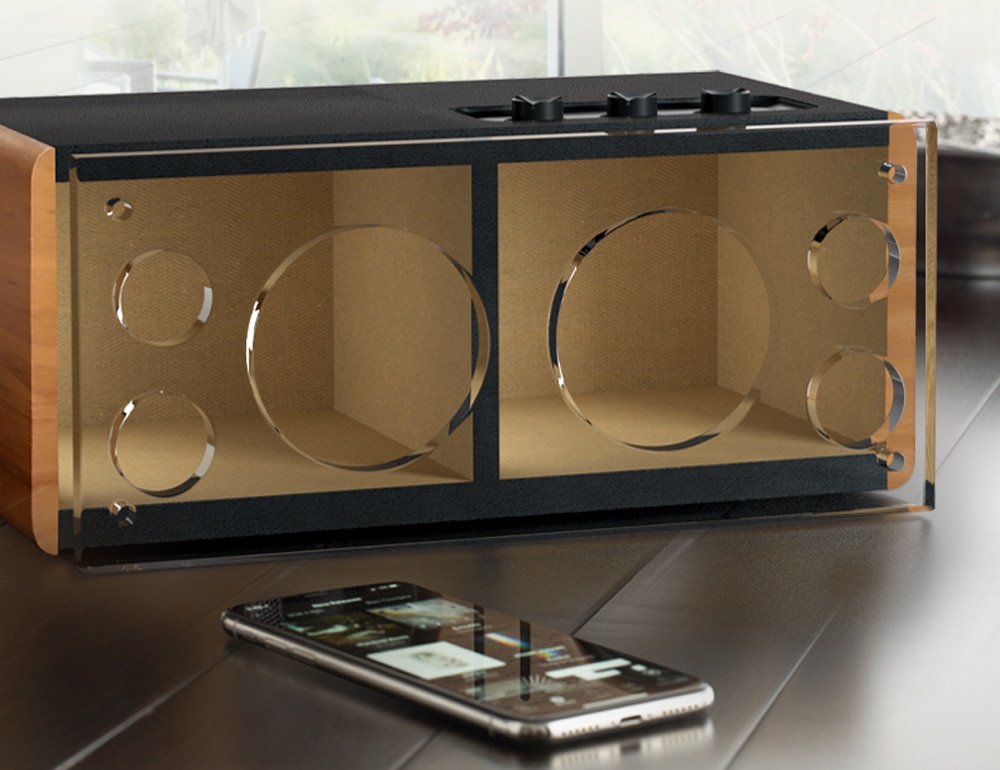 High Performance Digital Signal Processing (DSP)
The combination of a total digital circuit platform together with an integrated Bluetooth and 2 TI TAS5805M digital amplifiers creates a a powerhouse of high efficiency sound.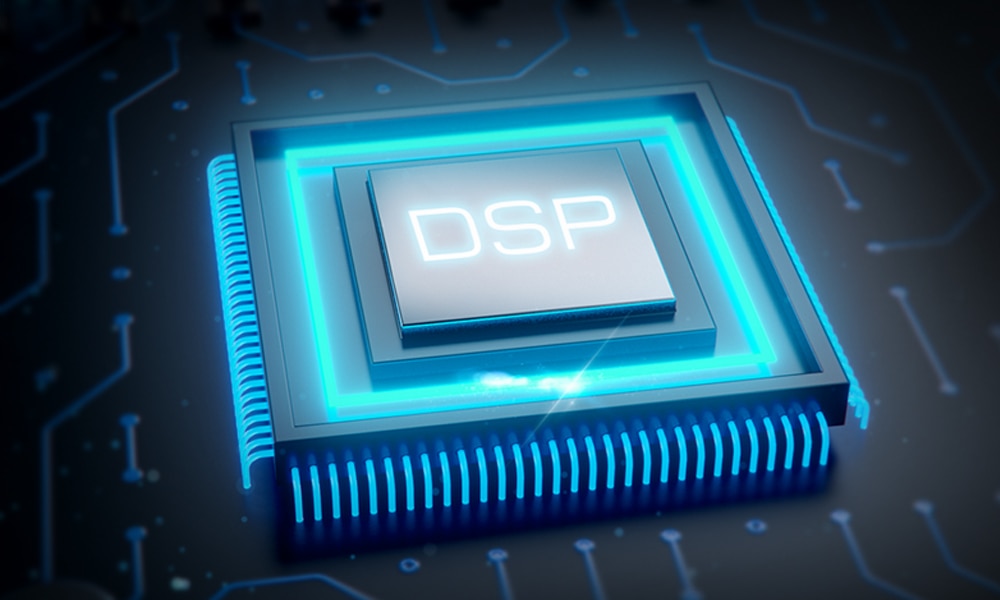 Outstanding Power Performance
Continuous undistorted sound is given with the D12 features a 20W*2 bass and a15W*2 treble to provide high quality sound at an affordable price.
Convenient Multi-input
The D12 gives its users the ability and option to customize their listening experience by providing a Bluetooth and two wired inputs.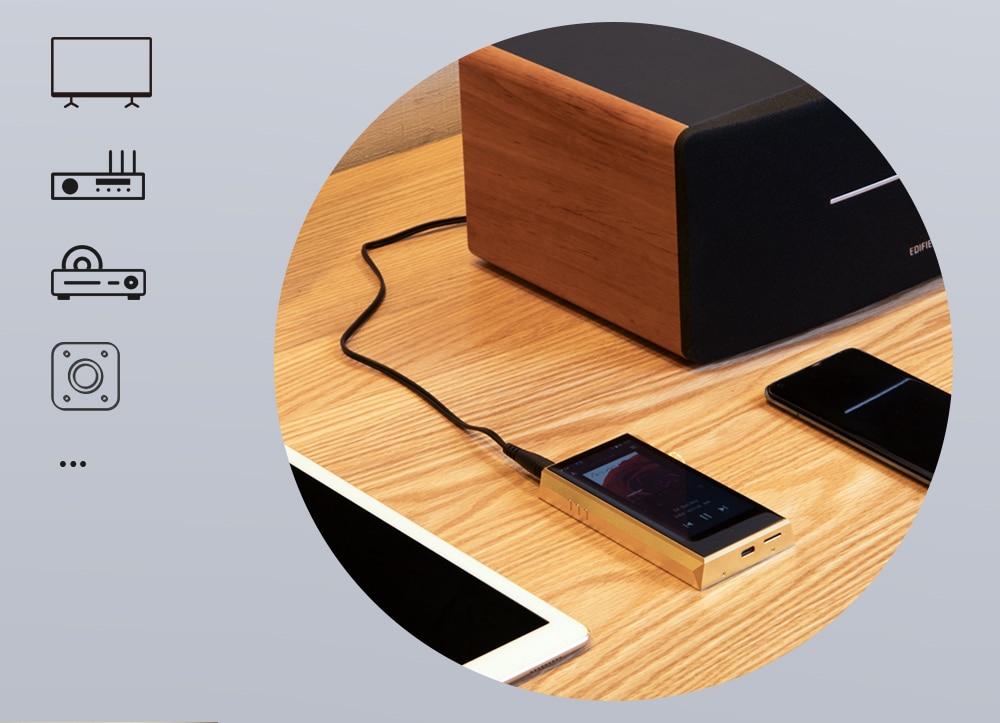 Bluetooth 5.0 Steady Signal Transmission
Bluetooth 5.0 provides users with a faster and more secure connection and lower power consumption for interference-free extended listening time.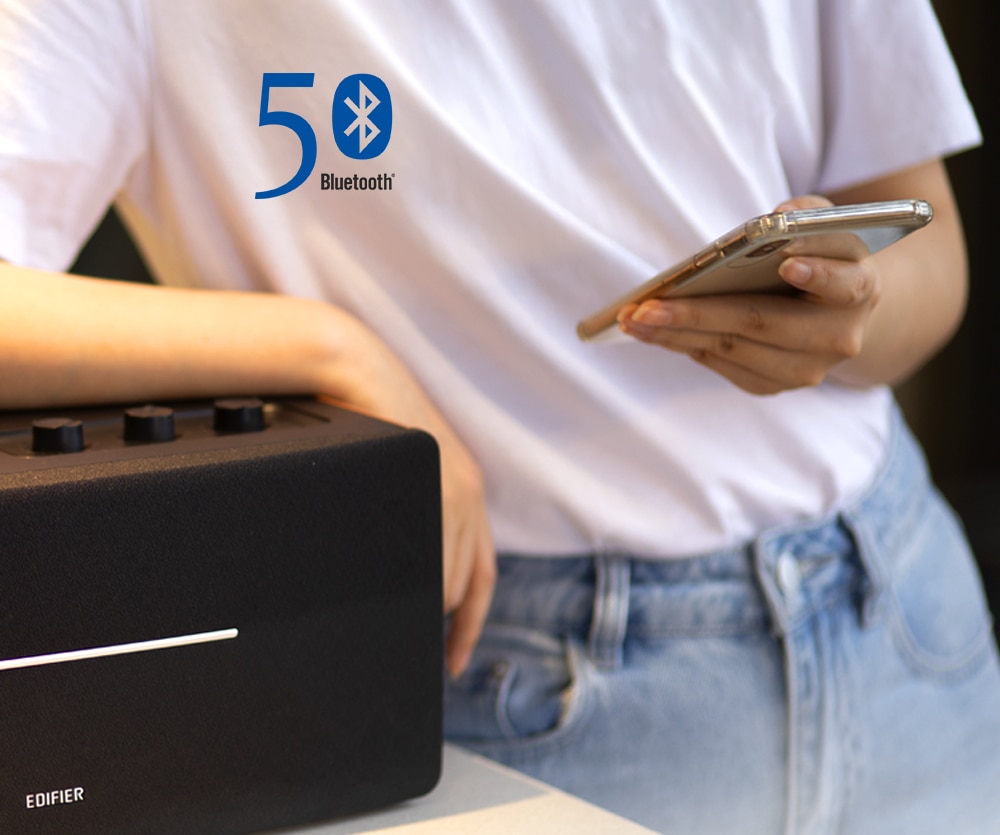 Convenient Controls at Your Fingertips
Switch between sources, EQ levels, and volume
with a simple twist of a knob.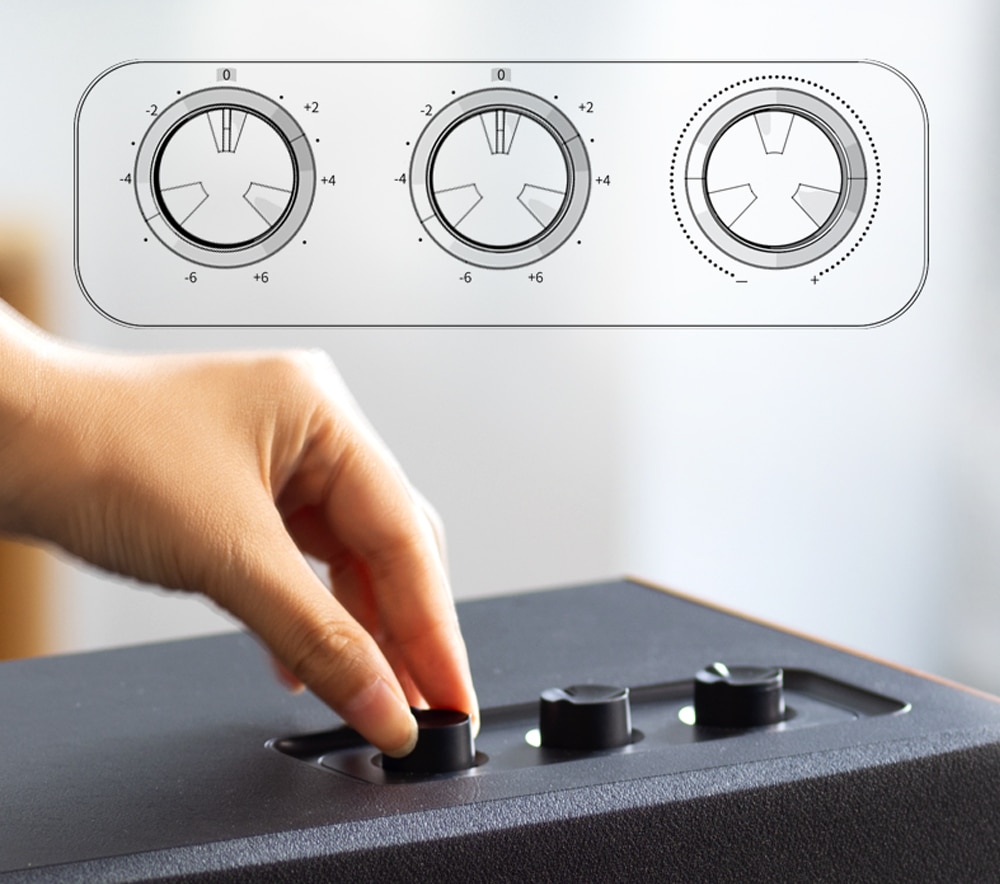 12 Key Simple Comfort-Contured Remote
The convenient dual color light located in the front of the speakers notifies the user of the signal source and working status.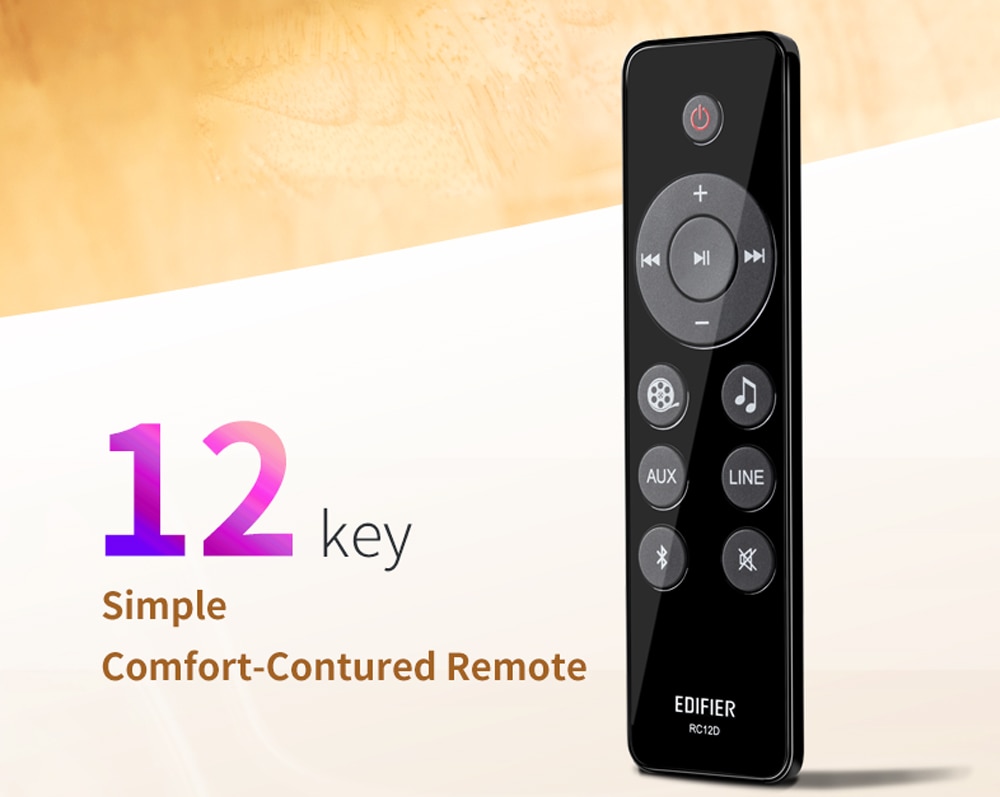 Signal Source Visual Indicator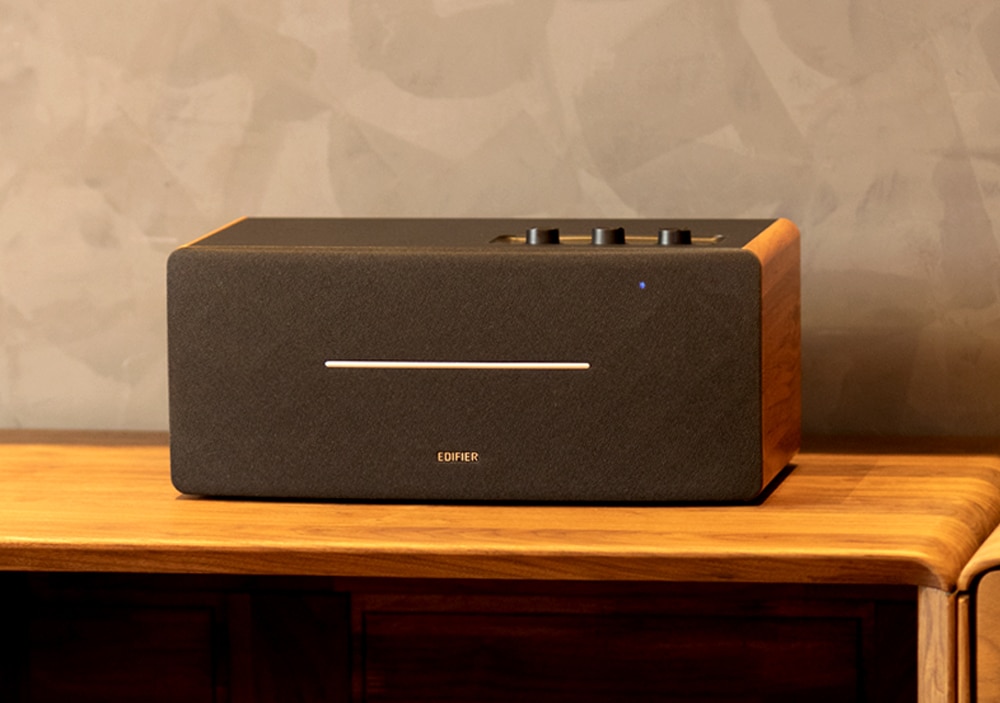 Specification
• Cabinet size(W×H×D) : 359x159x203.5mm
• Input(W): L/R(bass)20W+20W
• L/R(high pitch)15W+15W
• Input sensitivity : LINE IN 700±50mV
• AUX IN : 500±50mV
• Bluetooth input : 450±50mFFs
• Frequency Response : 54Hz-20KHz
• THD+Noise(%) ≤0.5%

Packing list
• Speaker *1
• Audio cable 3.5mm-RCA*1
• Remote control *1
• Introduction *1