With the decreasing number of bungalow houses, every household is living in buildings. Music lovers' pursuit of high-power speakers is restricted by space and sound insulation. The listening room area is generally less than 20 square meters, and it is easy to noisy neighbors. In desperation, I believe most of my friends will choose small desktop speakers just like me.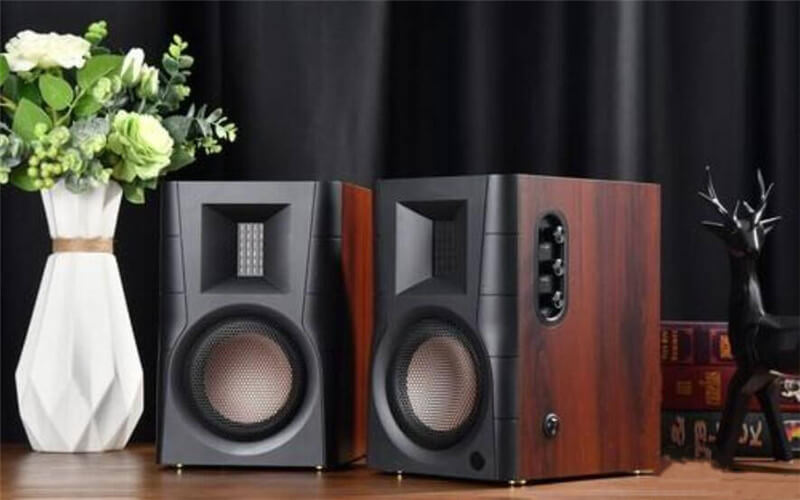 For users, the biggest benefit of desktop speakers is undoubtedly that it can bring a better listening experience at low power. But it's simple to say, desktop listening is mainly to listen to direct sound, and it is generally not tuned by changing the acoustic environment, so it is really not a simple thing to do a good job in desktop speakers.
After so much preparation, I will directly introduce today's protagonist: HiVi D200 desktop active HiFi speaker. In recent years, I have experienced many similar products, and HiVi D200 can be described as a rare conscience in the industry whether it is cost-effective sound quality or cost-effective workmanship.
Unboxing: The new legend of the D series, worthy of the name
As a rookie of HiVi Swans D series products, HiVi D200 adopts the same design as D300 and D100——black matte front baffle + PVC wood grain veneer package, which is very technological. At the same time, the irregular front baffle combined with the curved design on both sides + the design of the acoustic horn can effectively reduce the sound wave diffraction. It can be said that the sound quality and appearance are very good.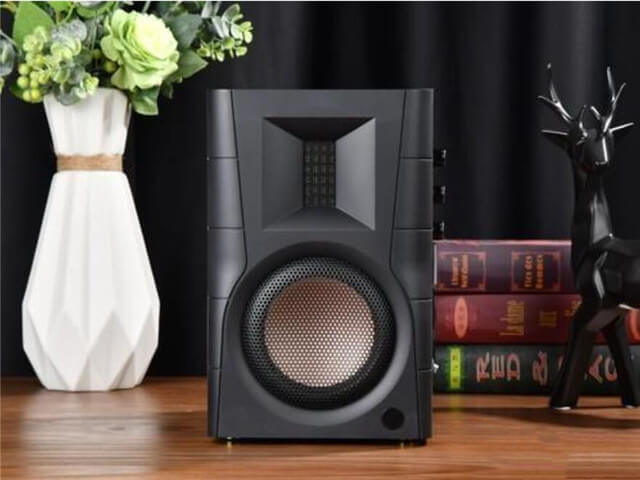 The HiVi D200 speaker adopts the design of isomagnetic band tweeter. The unit diaphragm is made of thin Kapton material coated with metal copper foil coil, which greatly reduces the vibration quality, so that the high-frequency transient performance characteristics can far exceed the traditional tweeter. It is worth mentioning that many well-known foreign speaker manufacturers are keen to use HiVi's isomagnetic band tweeter and regard it as their core electroacoustic technology.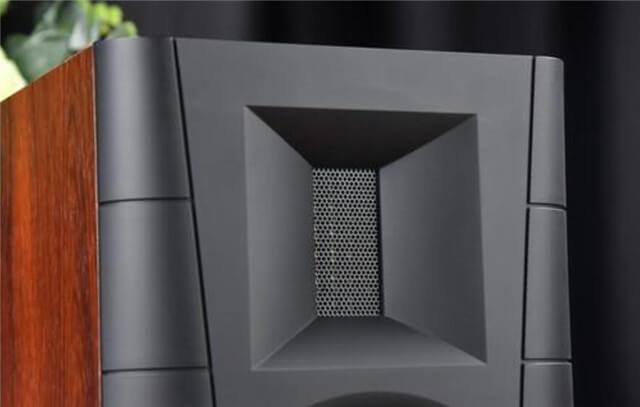 In the choice of mid-woofer, HiVi D200 uses a 5-inch metal mid-woofer. The unit uses aluminum-magnesium alloy material. Equipped with concave fatigue-resistant rubber edges, aluminum frame large voice coil design, copper coil wire and ferrite external magnetic magnetic circuit, the entire drive system has excellent resolution of audio signals, which can be used for desktop near-field listening. With low frequency texture and volume.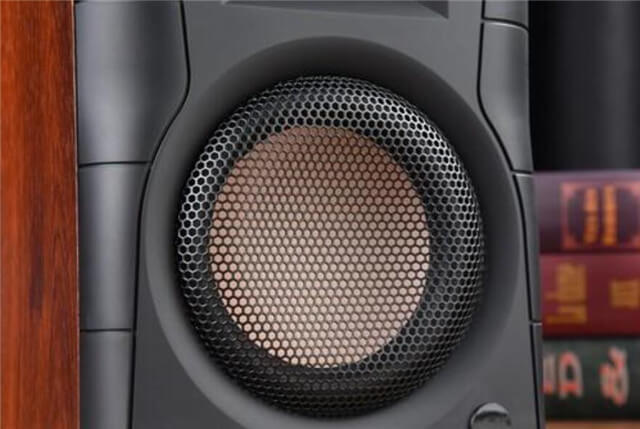 In terms of access, HiVi D200 supports buetooth, optical, coaxial, line and balanced input. It's worth mentioning that HiVi D200 is equipped with a Bluetooth 5.0 module that supports aptX HD, which not only has excellent sound quality, latency but also a senseless level, allowing users to play mobile games in daily leisure and get rid of the wire constraints, in any need for high-quality sound Enjoy the moment with HiVi D200.
On the top of the back panel, HiVi D200 has a switch between STAND (stand mode) and DESK (desktop mode), and users can switch according to different usage scenarios. Here I recommend that you use the desktop mode. If you need to listen at a longer distance rather than a short distance, I recommend that you try to use HiVi D300 with the stand to get a better low frequency experience.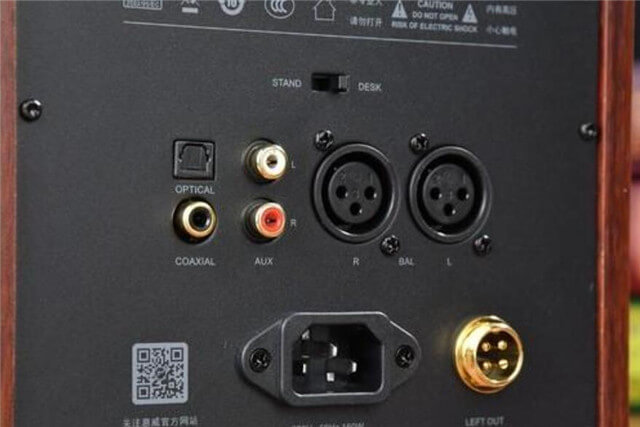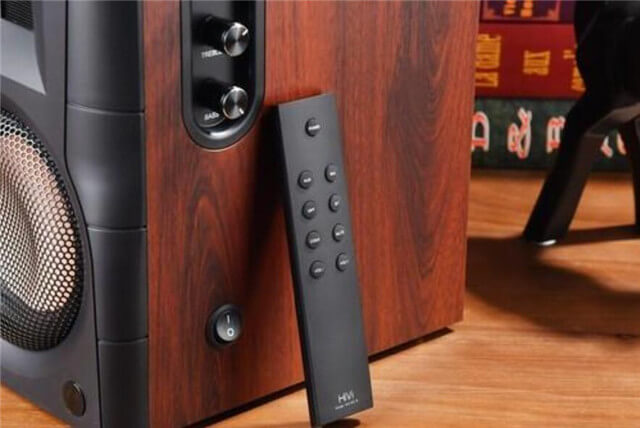 HiVi D200 can perform various access switching, volume and power control through its own remote control. On the right side of the right channel of the speaker, this speaker also provides a volume adjustment knob, a treble adjustment knob, a bass adjustment knob and a main power switch. Among them, the treble knob and bass knob can be adjusted arbitrarily within ±3dB of the high fidelity level, without worrying about sound distortion.
Audition experience: near-field listening is super cost-effective
HiVi D200 has a built-in high-efficiency low-distortion digital power amplifier module, and is equipped with a wide-voltage switching power supply. The dual-channel continuous output power can reach 260W RMD, which can theoretically meet the needs of desktop listening and various near-field listening. But from a personal perspective, it's the same sentence just now: I suggest you use it on the desktop. If you need to listen at a longer distance rather than a short distance, I recommend that you try HiVi D300 with a stand to get a better low frequency experience. The following two auditions of different styles are all conclusions of desktop use, and you are welcome to refer to them.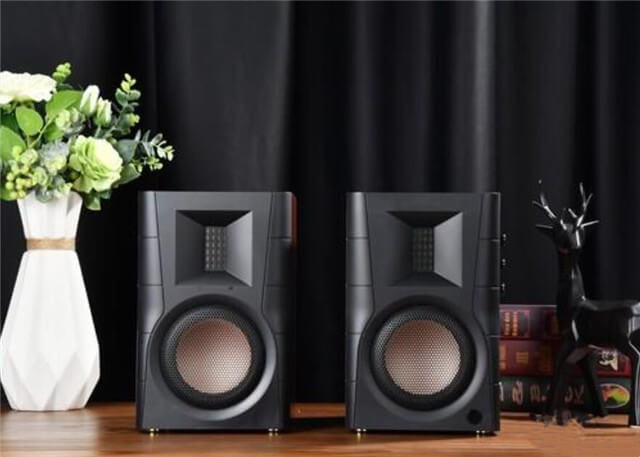 In the performance of popular music (reference track: InTheEnd-Linkin Park, カタオモイ-エメ)
HiVi D200 has a very good three-frequency equalization. When used on the desktop, it can give me the dual impact of strong enough low-frequency somatosensory and auditory sense, which brings me a very shocking experience especially when listening to popular music tracks that require greater low-frequency requirements. In terms of quality performance, this speaker has high sound density, clear sound and image and strong sense of positioning, especially in the presentation of high-frequency details. It is a desktop speaker product very suitable for pop music.
In the performance of classical music (reference piece: Franz Schubert-Der Tod und das Mädchen)
Compared with the performance of pop music, HiVi D200 is also excellent at the same level for classical music. Although HiVi D200 uses a digital power amplifier module, its dynamic performance does not give people the feeling of being compressed. Due to excellent three-band equalization and high-quality sound dynamics and transient response, HiVi D200 has a good performance for the sound reproduction of classical music scenes.
At last:
Some time ago, I was complained by neighbors when I listened to the loud speakers at home. To be honest, whether it is sound performance, appearance, access method and other additional attributes, HiVi D200 active HiFi speakers have achieved an average level that exceeds its own price.